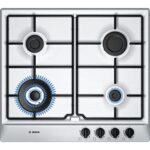 Siemens iQ500 Gas hob 60 cm
₹57,990.00
The wok burner with 4.0 kW is ideal for a wide variety of foods, even in large quantities.
High-quality materials and workmanship – continuous cast-iron pan supports.
The uniquely beautiful stainless-steel surface design.
1 in stock
Siemens has been a pioneer in home appliance innovation for more than a century. Siemens goods are industry leaders and appeal to the most affluent and diverse ambitions of a contemporary lifestyle. As you peruse the product line, you'll find a wide variety of appliances that each convey a unique sense of style. We've given you the most recent information to aid in making your decision regarding your new Siemens appliance if you want to discover the fascination of cutting-edge style and technology. Find out when the future will arrive.